TCR Benelux
[:nl]Ook tijdens TCR International op Spa Francorchamps actief[:en]Also to TCR International round at Spa-Francorchamps[:]
Gepubliceerd op 02 mei 2017
[:nl]Komend weekend, op 5 en 6 mei om precies te zijn, vindt op het Circuit van Spa Francorchamps de derde ronde van de TCR International Series 2017 plaats. Na zijn succesvolle eerste optreden tijdens de afgelopen TCR Benelux ronde op hetzelfde circuit, vraagt Honda Benelux nu aan Tom Coronel om ook de Internationale ronde voor hen te rijden.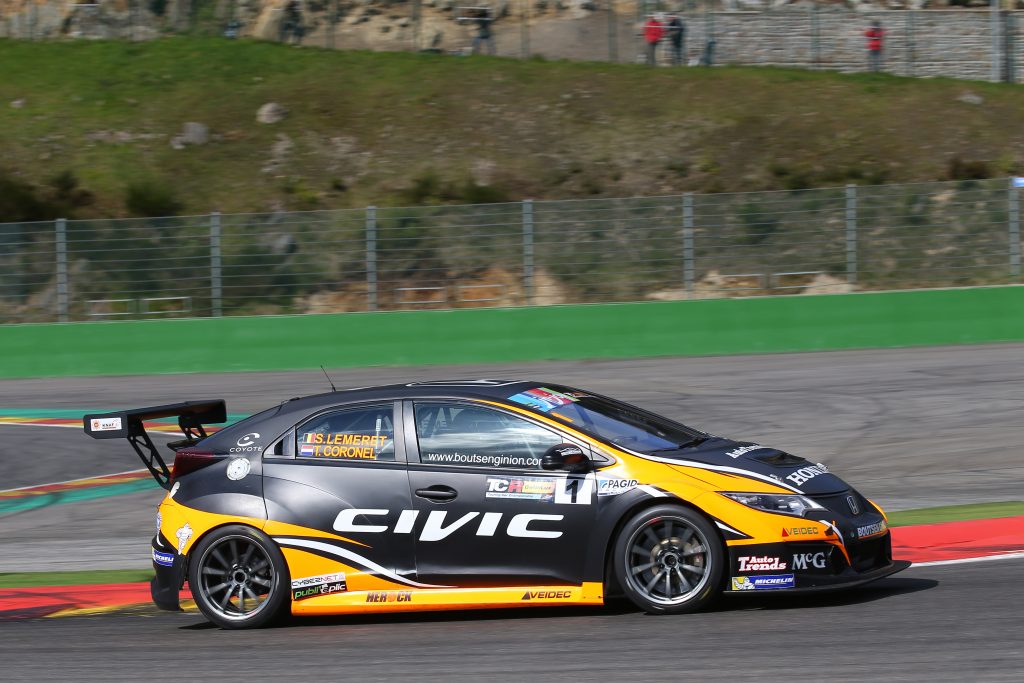 Tom Coronel: "Dit jaar rijd ik samen met Stéphane Lémeret in een Honda Civic TCR van Team Boutsen Ginion het TCR Benelux kampioenschap. Een goed team en een fijne auto om mee te racen. Tijdens die eerste race op Spa Francorchamps eindigden we direct als tweede. Een mooi resultaat. Via de Benelux-importeur van Honda kwam nu de vraag of ik met dezelfde Honda Civic TCR ook de Internationale ronde op Spa Francorchamps zou willen rijden. Nu had ik op 5 en 6 mei nog niets in de agenda staan, dus was dat besluit snel genomen. Het is fantastisch om naast het FIA-WTCC ook in dit internationale toerwagenkampioenschap actief te kunnen zijn. In principe gaat het internationaal om een eenmalig optreden en richt de focus van het team zich op het Benelux kampioenschap. Maar in eigen land wilde men ook wel graag aan de internationale TCR race meedoen. Voor mij een unieke kans dus."
Hij vervolgt: "Het TCR is een vrij jonge raceklasse, die door alle coureurs met aandacht wordt gevolgd. Na mijn race in het Benelux-kampioenschap is het uiteraard geweldig om deel te kunnen nemen aan deze internationale ronde. En weer op Spa Francorchamps, goed en snel bereikbaar voor mijn fans en tegen sterke concurrenten, waarvan ik veel coureurs ken. Het zal absoluut spannend en spectaculair worden. Ik heb er in ieder geval heel veel zin in."
Voor Honda Benelux is de mix van een Belgisch team en een Nederlandse rijder weloverwogen. Paul Tomanek, president van Honda Benelux: "De Nederlandse markt is voor Honda erg belangrijk. We zijn bijzonder blij dat we mogen rekenen op de populariteit van Tom Coronel en op zijn stuurmanskunsten om de dynamiek van ons merk in Nederland een duw in de rug te geven."[:en]This weekend, 5 and 6 May, to be specific, the Circuit Spa-Francorchamps will be hosting the third round of the 2017 TCR International Series. Following his successful debut in the TCR Benelux season opener at the same venue, Tom Coronel has been asked by Honda Benelux to take part in the international event as well.
Tom Coronel: "This year, together with Stéphane Lémeret, I am racing a Honda Civic TCR, run by Team Boutsen Ginion in the TCR Benelux series. A good team and a great car to race. During the first race at Spa-Francorchamps, we finished second straight away, which was a good result. Now, the Benelux importer for Honda asked whether I wanted to race the same Honda Civic TCR in the TCR International Series round at Spa-Francorchamps as well. As I had nothing on the calendar for 5 and 6 May yet, it didn't take long for me to say yes. Being able to race in this international touring car championship, next to my participation in the FIA WTCC, is great. Basically, this outing in the international series is a one-off affair, because the team has its focus on the Benelux series, but it wanted to take part in the international TCR event in its own country, so that is a unique chance for me."
He adds: "TCR is a relatively new race series that all drivers follow with a lot of attention. After my participation in the Benelux season opener, being able to race in the international round is excellent. Once again at Spa-Francorchamps, a fantastic circuit, easy to reach for my fans, and against a strong opposition with many drivers that I know. It will certainly be thrilling and spectacular, I am really looking forward to it."
For Honda Benelux, the mix of a Belgian team and a Dutch driver is a strategic move. Paul Tomanek, president of Honda Benelux, says: "For Honda, the Dutch market is very important. We are delighted that we can count on Tom Coronel's popularity as well as his driving skills to give the dynamics of our brand in The Netherland an extra boost."[:]