Sim racing
Tom Coronel on home soil as The Race All Star Series heads to Zandvoort
Gepubliceerd op 15 mei 2020
Last week, Dutch driver Tom Coronel had his first participation in The Race All Star Series, a sim race competition on the popular rFactor platform in which drivers are up against each other in the virtual version of the legendary Brabham BT44. "It was great fun," Coronel reported after his first virtual experience. This Saturday, the next event is coming up already and that is a special one for the former Japanese F3 and Formula Nippon champion. "We will be racing at the virtual version of the new Zandvoort circuit, so it will be my home race," Coronel says.
"Zandvoort will always have a very special place in my heart because that is where it all started for me," Tom Coronel says. "That is where I did the winter training course to obtain my licence, that is where I drove my first race in the Citroën AX Cup in 1990, so exactly 30 years ago this year, and went on to win the title the next year, the Dutch touring car title after that and so on. I always love to race at Zandvoort, but as that is physically impossible at the moment, a virtual race is the next best solution!"
The Zandvoort circuit underwent a major reconstruction in the past winter season in preparation for the planned return of the Formula 1 World Championship to the track in the dunes at the North Sea coast. Tom Coronel followed the developments with great interest. "What they have achieved there is simply unbelievable," he says, not hiding his enthusiasm by any means. "Especially the banked corners in the Hugenholtzbocht (turn 3) and the Arie Luyendykbocht (turn 14) are really spectacular! Over the past three decades, I have raced at some fantastic venues all over the world, but these corners really are at the highest level!"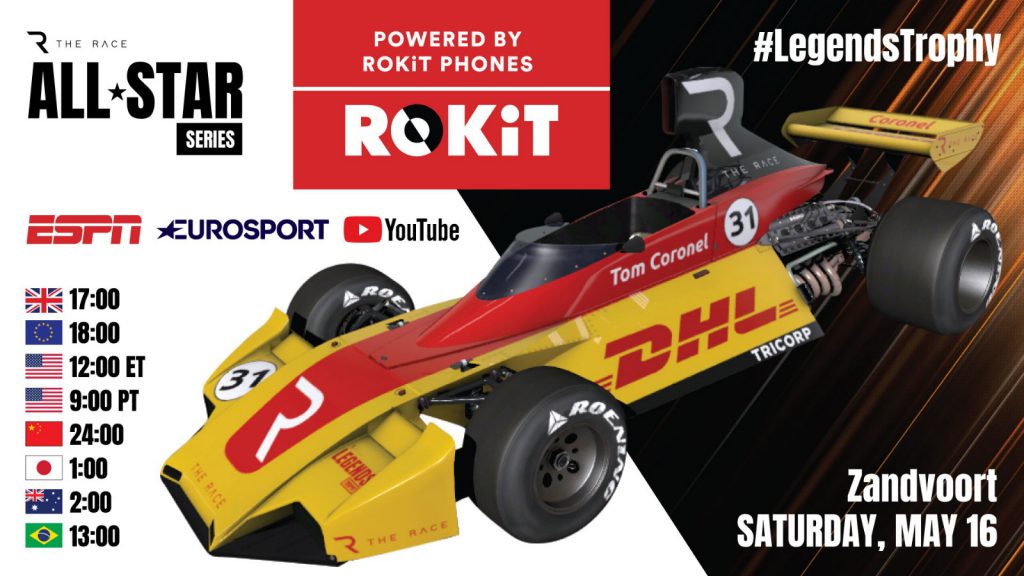 Tom Coronel is one of the privileged few drivers who have already had their first competition experience at the new circuit: "I raced in the 'Final 4', the season finale of the Dutch winter endurance series on the first weekend of March, before everything was cancelled. It was really cool, but I had to do a full reset, forget everything I knew about the track from the past. Whether this experience will be helpful for this weekend's virtual race? Well, it certainly won't do any harm!"
Coronel thoroughly enjoyed his first participation in The Race All Star Series last weekend. "The Brabham BT44 isn't just nice to look at, it also suits my driving style. It has a lot of oversteer, plenty of power on the rear wheels, makes a lot of noise. That is what I like! Of course, I didn't have a lot of time to prepare as I was only told about my participation the day before the race. But I had great fun. There are some very good drivers out there, a nice bunch of people, and all of them just as eager to be successful as in real-world racing. I am no exception: I was running second, but then I went off in the battle together with Jan Magnussen. Of course, I was a bit annoyed, but we had a good laugh about it afterwards. Yes, it is a game, but it is a very serious game!"
Last week, Coronel's participation in The Race All Star Series got a lot of attention. "It is great to see interest in sim racing increasing so rapidly," he says. "In the past, karting was the way into motor racing, but now, I think a lot of people are becoming interested in motor racing because of sim racing. I am getting better and better at it, too, although there are sill many things I have to learn. But the fun is massive!"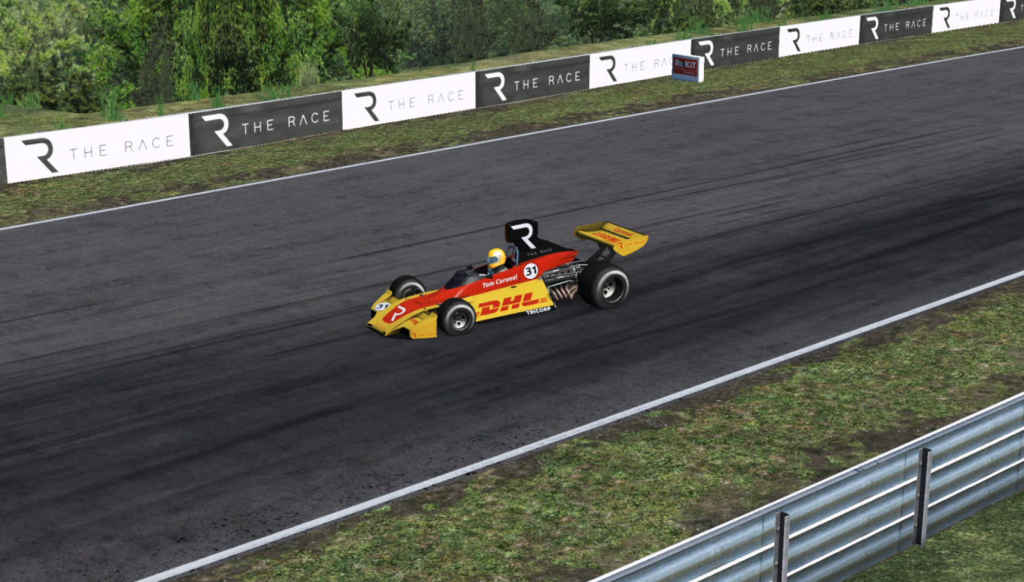 The race at Zandvoort is held on Saturday, 16 May, at 18.00 hrs CET, with live broadcast on the-race.com/YouTube, Eurosport's Facebook page, Twitter and Youtube as well as live coverage on TV in the UK and on ESPN2 in the US. Moreover, a 90 minutes highlights package is distributed among 71 networks worldwide, reaching 610 million households.
Check the entry list
40 Adrián Fernández

67 Andy Priaulx

10 Dario Franchitti

23 Darren Turner

9 David Brabham

68 Emanuele Pirro

1 Emerson Fittipaldi

66 Gil de Ferran

3 Hélio Castroneves

63 Jan Magnussen

16 Jason Plato

22 Jenson Button

58 Juan Pablo Montoya

55 Mario Dominguez

25 Max Papis

99 Michel Jourdain Jr

4 Mika Salo

32 Oriol Servia

09 Olivier Panis

11 Petter Solberg

18 Tiago Monteiro

7 Vitantonio Liuzzi

31 Tom Coronel
Follow me live on:

Twitch: https://www.twitch.tv/tomcoronel_eatmydust

Facebook: https://www.facebook.com/Tom.Coronel/

YouTube: https://www.youtube.com/tomcoronelracing


Follow The Race All Star Series live:
ESPN2 – US
Eurosport Facebook, Twitter, YouTube and live in the UK on TV
the-race.com/YouTube