Dakar
[:en]TIM AND TOM CORONEL STUCK ON STAGE 4 FOR SEVERAL HOURS[:]
Gepubliceerd op 11 januari 2019
[:en]TACNA – Tim and Tom Coronel have lost a lot of time on the fourth stage of the 2019 Dakar Rally. On the opening part of the stage, the duo ran into trouble. Eventually, they made it to the finish almost three hours down on the stage winner.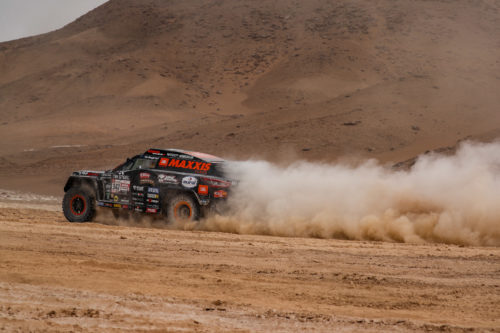 After three trouble-free days, Tim and Tom also fell victim to the unforgiving desert sand in Dubai on the fourth day. On the first days, the two masterfully steered clear of all the troubles and happily motored on while several other competitors got stuck. In the highly demanding first part of the marathon stage, many competitors got it wrong again, but this time, Tim and Tom were also among the teams to get stuck and they lost a lot of time as a result.
Tim explained: "We were stuck for a long time. The starter didn't work, so we couldn't get the car running. We worked for a long time to get the car out of the sand and to solve the issue. After a few hours of hard work, thankfully we could get going again."
Later, the compressor of the tyre deflation system turned out not to be working properly which made driving through the 'fesh fesh' even more difficult. "Once we had reached the neutralisation zone, we totally cleaned the car," Tom added. "The dust really goes everywhere and it is killing for the machinery. We didn't want to take any risk so we were cleaning thoroughly before taking on the second part of the stage."
With a huge delay, the duo crossed the finish line just before darkness set in.
The second part of the marathon stage is scheduled for Friday. Competitors return to Arequipa on a route of no less than 714 kilometres including 452 kilometres of special stage.
[:]