Dakar
[:en]TIM AND TOM CORONEL IN TOP 20 OF REALLY DEMANDING LEG[:]
Gepubliceerd op 10 januari 2019
[:en]
AREQUIPA – Tim and Tom Coronel have had an outstanding third leg of the 2019 Dakar Rally. While many teams hit trouble, the duo finished in an excellent 17th place.
A total of 331 special stage kilometres was scheduled for the third day of the toughest endurance test for man and machine. It turned out to be a real exhaustion test. Many top teams found their Waterloo in the treacherous dunes around San Juan de Marcona. Tim and Tom made use of their experience from previous years by playing it cautiously at the start. Many opponents got stuck or incurred serious damage. The twins managed to avoid all the problems and showed up in the top 20 of the day's results.
"The opening part was really tough with again huge dunes," Tim looked back. "We did it in a clever way by briefly stopping on the top of the dunes to see what the others were doing. It was a huge battlefield, we saw many competitors having problems in the sand. We passed them on the left-hand side and that worked out well. Once we had made the descent, we got into a rio where we shouldn't have been. It didn't fit: our car was too wide, but I kept pushing on at full speed. We felt like a pin ball, going left and right all the time. After 500 metres, we got out of it. Really impressive!"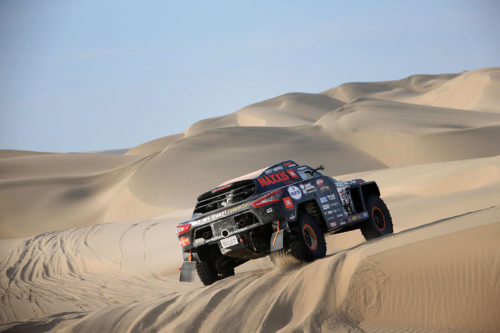 On the final 30 kilometres, the twins lost some more time due to a puncture, but apart from that, the demanding leg was completed without any major issues. "Another un-Coronel like day! Normally, we are sleeping in the desert, we are working on the car for hours and we have one problem after another, but so far, we haven't had anything like that yet," Tom laughed. "Tim went very well. We almost got stuck in the dunes twice, but he was clever enough to turn around. I notice that he really has fond a good rhythm. And the car is still doing fantastically. We haven't had any problem. I am really pleased with the way things have been going so far."
The first part of the marathon stage is scheduled for Thursday. Competitors have to cover 664 kilometres including 352 kilometres of special stages. There is no service in the evening, so they have to take care of any problems themselves.
[:]