FIA WTCR
Tom Coronel concludes FIA WTCR era with podium result
Gepubliceerd op 28 November 2022
JEDDAH (27 November 2022) – Two races at the Jeddah Corniche circuit in Jeddah in Saudi Arabia not only concluded the 2022 season in the FIA WTCR – World Touring Car Cup, but also WTCR in its current format that will not be continued after this year. Tom Coronel ended the FIA WTCR era in style with a podium finish as he finished third in the first race with his Audi RS 3 LMS, run by Comtoyou DHL Team Audi Sport. He also won the WTCR Trophy, the classification for privateer drivers.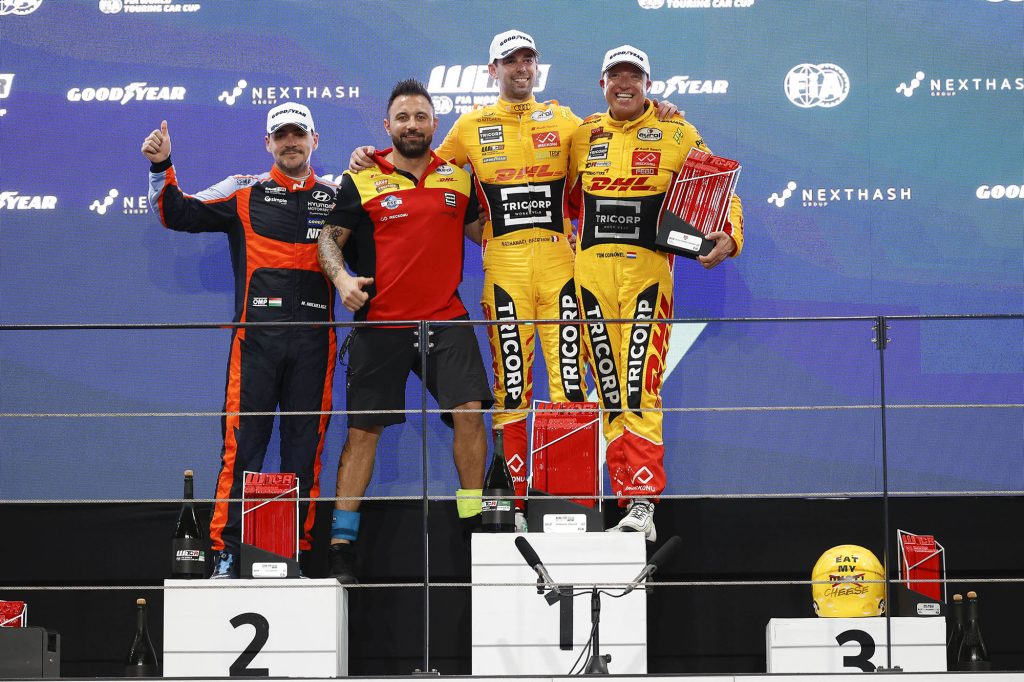 For Coronel, the WTCR race weekend also was his first experience of the Jeddah Corniche circuit where Formula 1 raced as well, although the touring car drivers raced on a shortened track configuration of 3.45 kilometres. "It really is a cool circuit. Everything is built very nicely, you can see that everything is new. It is also a real challenge to drive. I was really impressed," Coronel said after his first impressions. "We are only using around half of the Formula 1 circuit, so I thought: 'It will probably not be too hard', but it is really fast! I had to properly find my way, but that worked out nicely."
Coronel was already up to speed in the practice sessions. He ended up fourth in the test on Thursday. In first free practice on Friday, he was classified seventh and he was fifth-fastest in the second session. "We didn't change much on the car, we started with the set-up we had at the end of the previous race weekend at Bahrain because that gave me a really good feeling. In the end, I only made some very small changes, for the rest, the car handled really well," Coronel reported.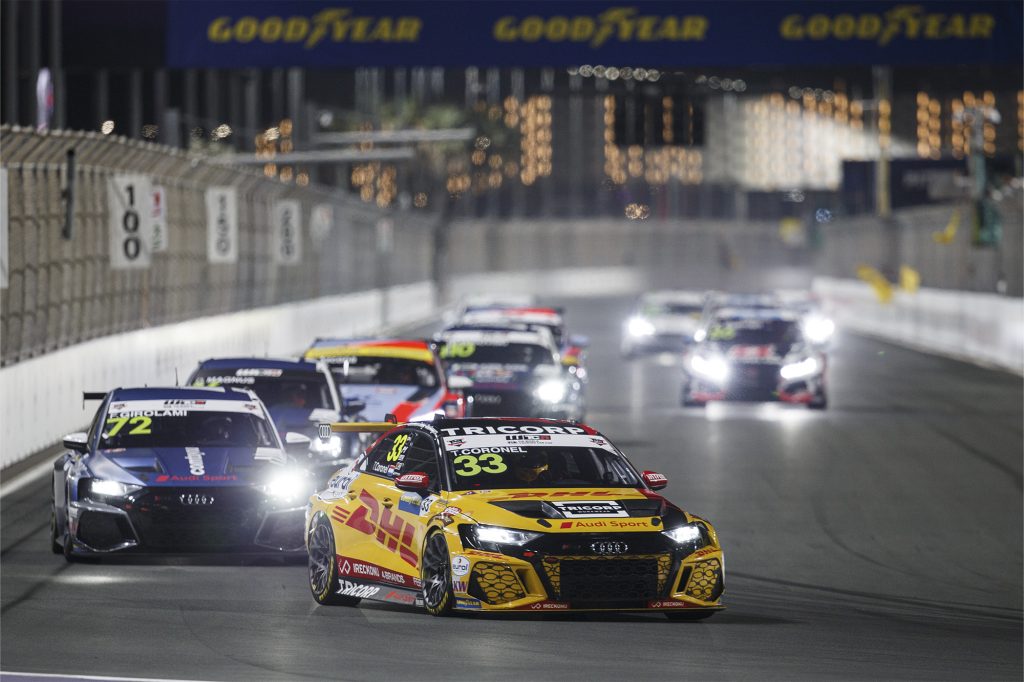 That boded well for qualifying on Saturday, although the lap times at the front of the field were only hundredths of a second apart. In qualifying, the two Comtoyou DHL teammates Berthon and Coronel helped each other very well with slipstreams to achieve faster lap times. That worked out well, so that Coronel made it into the third and final qualifying heat for the five fastest drivers for the first time this season in a WTCR event. He said: "In Q3, I just braked a little bit too early in the final corner, but eventually, I qualified fourth, so a slot on the second row of the grid, a good position going into the race. We are consistently on the pace, that is a good thing."
In the first race, Coronel managed to make up a position in the opening stages already, moving up to third place. As he was unable to close the gap to the driver in second place as the race went on, he decided together with the team to allow his Argentine teammate Franco Girolami to have a go. Girolami was unable to mount a challenge as well and therefore, the initial order was restored on the final lap, so that Coronel finished third behind his French teammate Nathanaël Berthon and Hungary's Michelisz. He also came out on top in the WTCR Trophy for privateer drivers. "Very cool, first and third place for the DHL Comtoyou team," a visibly happy Coronel said afterwards. "I had a really good start and overtook Azcona straight away. In the closing stages, I was in the front seat to watch the battle for the lead. Great to be able to collect a trophy again here!"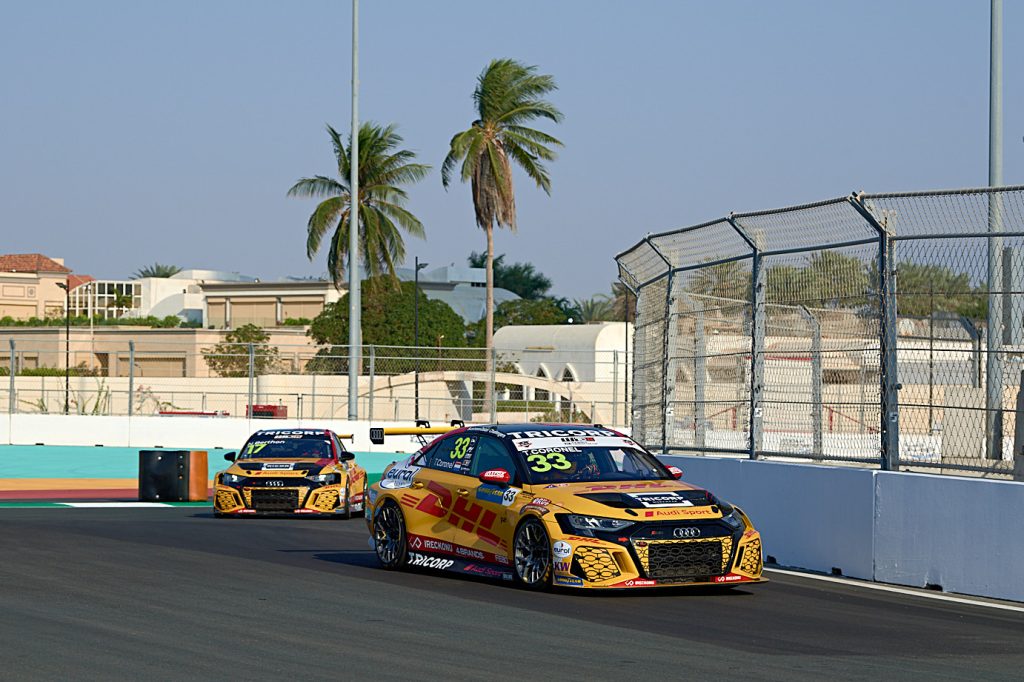 Because of the reversed grid for the first ten from qualifying, Coronel started seventh in the second race. He ran behind his teammate Berthon for a long time. "That was what we had agreed upon: Berthon was still in contention for runner-up spot in the championship, so I tried to help him," Coronel explained. Berthon tried fiercely to find a way past Rob Huff, but eventually, there was contact between the two that left Berthon's car ground to a halt with a broken suspension. The safety car was deployed as a result and racing didn't resume. Therefore, Coronel finished in sixth place. "A bit boring," he admitted. "It was obvious that I helped my teammate, but for the rest, the race wasn't very spectacular."
With the two races in Saudi Arabia, the 2022 FIA WTCR – World Touring Car Cup season came to an end. "It was a good season for me," Coronel looks back. "I have scored many podium results, was able to bring home many trophies. I am competitive and that is very nice to see, that I am in contention at the front. Of course, it helped a lot that I raced in both championships, WTCR and TCR Europe Series, because that enabled me to rack up a lot of miles and to establish a good feeling with the team, the engineer and the car. I really would like to thank everyone, the team and all my partners, for what I think was one of my best seasons ever!"